Applied Science and Innovative Research (ASIR) is an international open-access journal published by Scholink. The journal aims to provide a high-level platform for scholars and researchers all over the world to share latest findings and views in the field of applied science.

We would welcome scholars and researchers engaging in the related field to submit your manuscripts which are complete unpublished and original works and not under review in any other journals to Applied Science and Innovative Research. Both of online submission and E-mail submission (asir@scholink.org) are acceptable.

--------------------------------------------------------------------------------

The journal covers all areas of applied sciences such as:

Applied Behavioral Science
Applied Biology
Applied Chemistry and Materials Sciences
Applied Computer and Information Research
Applied Ecology
Applied Economics
Applied Education Research
Applied Engineering
Applied Genetics
Applied Geography
Applied Linguistics
Applied Mathematics and Statistics
Applied Mechanics
Applied Philosophy
Applied Physics
Applied Physiology
Applied Psychology
Applied Sociology
Artificial Intelligence

Open access: Applied Science and Innovative Research is available online to the reader "without financial, legal, or technical barriers other than those inseparable from gaining access to the internet itself."

Peer review: Applied Science and Innovative Research takes peer review policy. Peer review is the evaluation of work by one or more people of similar competence to the producers of the work (peers).

  
Journal Publishing Flowchart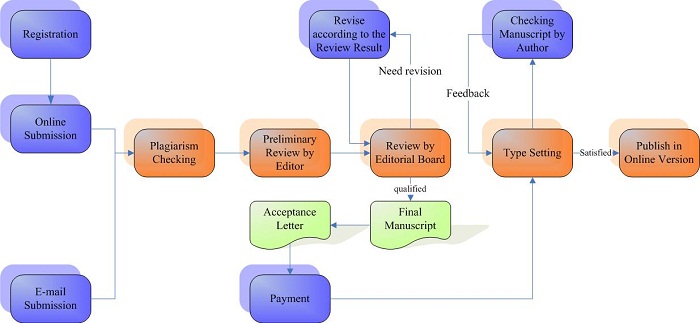 Announcements
Call for Papers for Vol. 8, No. 1, March 2024

We are calling for submission of papers for Vol. 8, No. 1, March 2024.

All submitted articles should be original and must not be under consideration for publication elsewhere.

Please submit your manuscripts online. You may also e-mail submissions to asir@scholink.org

Posted: 2023-11-30

Recruit Reviewers

If you are interested to be a reviewer, we welcome you to join us. Please download and finish the application form at

http://www.scholink.org/doc/Application%20Form%20for%20Editorial%20Board%20Members.doc

Then send the completed application form to the editor: asir@scholink.org.

Please pay attention to the basic requirement to reviewer:

1.    Possess a doctorial degree.

2.    Research area is relative to the subject of journal.

3.    Proficiency in English.

Posted: 2019-12-12
Vol 7, No 4 (2023)
Applied Science and Innovative Research Vol. 7, No. 4, 2023, Online Version First
Table of Contents
Articles
| | | |
| --- | --- | --- |
| | H. D. Wang, C. N. Zhang, H. Zhang, Y. C. Wei, X. L. Guan | p21 |
| | | |
| --- | --- | --- |
| | Wenxiang Luo, Lu Tang, Pan Zhang, Chunyan Lang | p41 |
| | | |
| --- | --- | --- |
| | Jialing Yang, Jingyuan Shi, Lin Yu | p51 |
| | | |
| --- | --- | --- |
| | Jack Jia-Sheng Huang, HsiangSzu Chang, YiChing Hsu, Alex Chiu, ZiHan Fang, Sam Hsiang, H.S. Chen | p65 |
| | | |
| --- | --- | --- |
| | Zitong Yuan, Wu Yang, Shen Chen, Wenrui Ran, Xiaogan Guo, Anxing Lu, Zhang Min | p83 |