World Journal of Educational Research (WJER) is the first journal of Scholink in the field of education. The mission of WJER is to provide a high-level platform for experts and scholars all over the world to share their latest ideas in the field of education and foster the prosperity of the discipline.

We would welcome scholars and researchers engaging in the related field to submit your manuscripts to WJER. Both of online submission and E-mail submission (wjer01@scholink.org or wjer@scholink.org) are acceptable.

------------------------------------------------------------------------------

The journal includes, but is not limited to the following fields:

Education in Preschool
Education Primary School
Education Secondary School
Education High School
Educational Technology
Educational Leadership
Teaching
Learning Skills and other relevant fields

------------------------------------------------------------------------------


        Index/List/Archive  

    CrossRef
    Google Scholar
    LOCKSS
    academia.edu
    PKP Open Archives Harvester
    EBSCOhost
    OALib
    Electronic Journals Library (EZB)
    LinkedIn
    NewJour
    Sherpa-Romeo
    Standard Periodical Directory
    AMICUS
    Yahoo
    Research Bib
    Library and Archives Canada
    Directory of Research Journals Indexing
    Electronic Journals Librar
    Journal seek
    Lycos
    Zeitschriftendatenbank (ZDB)
    Base Search
    Scientific Indexing Services (SIS)

Open access: World Journal of Educational Research is available online to the reader "without financial, legal, or technical barriers other than those inseparable from gaining access to the internet itself."

Peer review: World Journal of Educational Research takes peer review policy. Peer review is the evaluation of work by one or more people of similar competence to the producers of the work (peers).
Journal Publishing Flowchart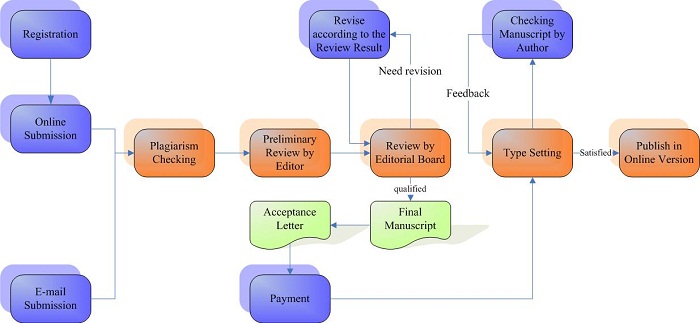 Announcements
Call for Papers: Vol 10, No 2, 2023

We are calling for submission of papers for Vol. 10, No. 2, 2023 (Deadline: April 18, 2023 ). If you are interested in submitting a manuscript, please submit your manuscripts online or e-mail your paper to wjer01@scholink.org or wjer@scholink.org

We also would like to cooperate with other institutions to publish special issues.

To publish a special issue, please contact with the editor wjer01@scholink.org or wjer@scholink.org

 

If you are interested to be a reviewer, we welcome you to join us. Please Download the application formhttp://www.scholink.org/doc/Application%20Form%20for%20Editorial%20Board%20Members.doc, fill in your information and send it to the editor: wjer01@scholink.org or wjer@scholink.org

Please pay attention to the basic requirement to editorial members:

1. Possess a doctorial degree.

2. Research area is relative to the subject of journal.

3. Proficiency in English.

Posted: 2016-09-19

Author Publication Fees

Original Article Publication: 300.00 (USD)

Book Review, Study Protocol, Case Study,  Short Communication, Short Research Report (Within 2000 Words): 200 (USD)

If this paper is accepted for publication, you will be asked to pay an Article Publication Fee to cover publications costs.

Posted: 2016-07-06
Vol 10, No 2 (2023)
World Journal of Educational Research  Vol. 10, No. 2, 2023, Online Version First
Table of Contents
Articles
| | | |
| --- | --- | --- |
| | Feiyang Liu, Zerui Liu, Jingying Li, Liya Guo | p1 |
| | | |
| --- | --- | --- |
| | TANG YAO, ZHU HONGJing, CHENG YANG | p12 |
| | | |
| --- | --- | --- |
| | Guizhen Shi, Guotao Ma, Shangfeng Jiang | p17 |
| | | |
| --- | --- | --- |
| | Kate Sato, Birte Horn | p39 |